Aries Shion (牡羊座のシオン,
Ariesu no Shion
?
) is the Aries Gold Saint in the 18th century in Kurumada's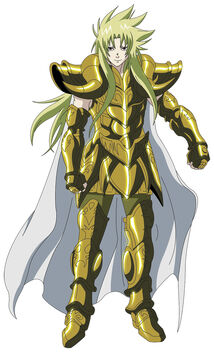 original manga, fulfilling the same role in
Lost Canvas
. He is a close friend of
Libra Dohko
to whom he is often seen talking.
Personality and Background
Edit
Shion is tranquil and analytical person. He is a descendant of the People from the Lost Continent and is a disciple of Altar Hakurei, and former training partner of Crane Yuzuriha. Previously a passionate student of the lives of Saints of the past through the analysis and repair of their Cloths.
Abilities
Edit
Crystal Wall (クリスタルウォール, Kurisutaru Wōru?), which creates a defensive barrier, it can take various shapes, depending on the user's will. This defensive technique seems to be impregnable, with a few exceptions, as it was able to stop the most powerful attack of Griffon Minos.
Stardust Revolution (スターダストレボリューション, Sutādasuto Reboryūshon?), he creates a miniature universe, conjuring stardust from stars and galaxies, allowing him to throw innumerable blows instantly.