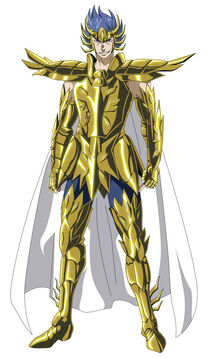 Age

25

Gender

Male

Astrological sign
Affiliation
Class
Rank
Constellation / star
Cloth
Master(s)
Attacks

Sekishiki Meikai Ha
Sekishiki Kisoen
Sekishiki Konso Ha
Acubens

Status

Dead
Cancer Manigoldo (蟹座のマニゴルド) is the Gold Saint of Cancer circa 1700's. He is one of the most cunning saints to have lived within the era, and is the pupil of Cancer Sage, one of the most powerful Grand Popes of the Sanctuary. Manigoldo appears in Shiori Teshirogi's Saint Seiya: The Lost Canvas.
The name "Manigoldo" (マニゴルド) is taken from an Italian origin, with the very word meaning "Rascal" or "Rogue". It is a fitting parallel to the character's origin and personality.
As the gold saint of Cancer, Manigoldo is well versed with offensive and manipulative techniques befitting of the Gold Saint. Just like his later reincarnation, Cancer Deathmask, Manigoldo specializes in spiritual techniques much associated with death, souls, and the Underworld. In Saint Seiya: Lost Canvas, it can be theorized that many of these moves were handed down from his Master, Cancer Sage, the Grand Pope of the Sanctuary.
Manigoldo's signature technique. Executed with one finger pointing at its target, the Cancer Saint rips the very soul residing within an individual's body and transfers it to a location of his choosing, usually the Underworld. In Lost Canvas, it is shown that even deities can fall to this move.
A blue will-o'-the-wisp is summoned in the palm of Manigoldo's hands, and the ball of fire incinerates all souls in the immediate area.
Manigoldo gathers any and all souls surrounding him and combines them into one single deadly explosive attack. The technique is strong enough to harm even Thanatos, the God of Death, himself.
A physical move. The Gold Saint latches his legs upon an opponent and pinches them in half.