Age

21

Gender

Male

Astrological sign
Affiliation
Class
Rank
Constellation / star
Cloth
Attacks

Kan
Tenma Koufuku
Rikudou Rinne
Tenbuu Hourin

Status

Dead
Virgo Asmita (乙女座のアスミタ) is the Gold Saint of Virgo, circa 1700's. He is one of the twelve legendary Gold Saints of Athena who sacrificed their lives in the Holy War against Hades. Asmita appears in Shiori Teshirogi's Saint Seiya: The Lost Canvas.
The name "Asmita" (アスミタ) is from lengthy Indian philosophies. One of its meaning is "The Ego". It is also used for "That which is not what it appears to be".
Personality and Background
Edit
Asmita has an introspective personality and practices Buddhism in the Sanctuary, something not accepted by Taurus Aldebaran. He does not consider Sasha as a good goddess as she is the sister of Alone and he has thought of betraying and killing her. His ideology remains unchanged until he encounters Pegasus Tenma in the Underworld and recognizes their strength.
CLOTH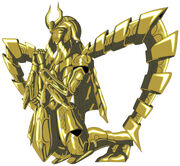 Abilities
Edit
Asmita can perform a large number of techniques based on Hinduism and Buddhism tradition
Om (ॐ) to flare his Cosmo to the maximum
Demon Pacifier (天魔降伏, Tenma Kōfuku?) is a powerful attack which manifests Asmita's Cosmo physically between his palms. Afterward, a powerful burst of light obliterates any adversary.
Six Paths of Transmigration (六道輪廻, Rikudō Rinne?) allows Asmita to send his opponent to one of the six rebirth realms of Saṃsāra doctrine.
Heaven 's Supremacy of spirits of rivers and mountains over evil (天空覇邪魑魅魍魎, Tenkūhaja Chimimōryō?), summoning spiritual entities that kill the opponents.
His most powerful technique, an offensive and defensive move representing the perfect balance and truth of the universe, is The Treasures of Heavens (天舞宝輪, Tenbu Hōrin?), which allows him to destroy all five senses of enemies.